About Oriental Food & Services Pte Ltd
Oriental Food & Services Pte Ltd is established in 2004 as an importer and distributor of Japanese frozen food. Catered for the expanding and changing needs of the local market, we have since then included a wider range of frozen seafood products as well as Japanese frozen food products to meet the demand. As of 2012, Oriental Food & Services is firmly established as one of major suppliers of frozen seafood and Japanese frozen food products in Singapore.



Our New Company Logo
(September 2019)
Oriental Food & Services Pte Ltd has spent great effort in developing new frozen seafood products and expanding the markets. Over the years, with the humble beginning with only few product items available, now Oriental Food & Services Pte Ltd is supplying more than 100 items to the markets, from the wild caught sea products like scallop, black cod, toothfish, squid; various kind of sea fish like black pomfret, threadfin bream, Indian mackerel; processed seafood like Saba fillet, Unagi; farmed fishery products like Vannamei shrimp, Sutchi fillet; to value-added seafood products. Oriental Food & Services focus on both product variety and product quality. With clear targets and effort from its dedicated staff, the company has achieved total turnover of 15 million in fiscal year 2011, which is end of last Dec.
Having forged close connection with our business partners, Oriental Food & Services has diversified and extended its distribution network. Our customer base covers wholesalers, supermarkets, restaurants, caterings, food courts, and schools. We also export our products to South-East countries.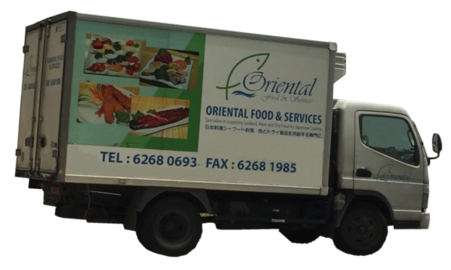 Relying on strong logistics and warehouse facilities, Oriental Food & Services Pte Ltd ensure the lowest cost with the highest productivity, so as to provide our customers with competitive prices. The company owns a fleet of refrigerated trucks; it ensures our customers with peaceful minds to receive products in good condition and on time.
We source our products from the world. Our products comes from the countries of Vietnam, China, Thailand, Korean, Japan, Indonesia, Malaysia, New Zealand, Chile, USA, France and Norway. With the cordial support from our oversea suppliers, we ensure our customers with constant supply of variety of food products.

Working together affiliated company, Oriental Food & Services Pte Ltd also process seafood to different presentation and pack it attractively in a HACCP certificated processing facility. Over the years, Oriental Food & Services has built its own trademark
OKEANOSS
which has good reputation in retail markets. We are dedicated to providing all our customers with quality food and best services.